Sleazy is the master of fast seduction.
—Cliffslist.com
Through writing about his sexual adventures candidly on forums and blogs, Aaron Sleazy gained notoriety but also a dedicated group of followers who were eager to learn from him. After numerous requests, he began sharing his insights in interviews and his books. His position is that seduction is mutual, direct, sexual — and not in the least manipulative. The latter led him to become a fierce critic of the commercial seduction industry.
Aaron Sleazy has personally helped hundreds of men to improve their love life, in and outside of relationships. If you don't have much luck with women, you have come to the right place. But even if you are already successful, you will learn how to get similar results in much less time and with much less effort. Getting laid doesn't have to be difficult.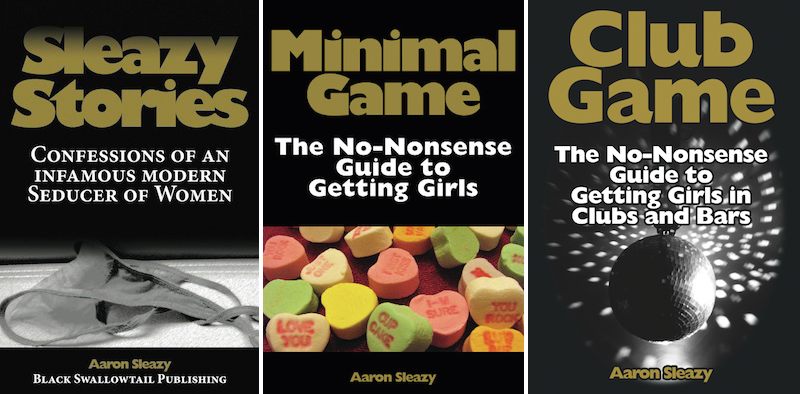 Aaron Sleazy has written a number of books. Sleazy Stories is a memoir, detailing some of his adventures in the nightlife of London and Berlin. Minimal Game reveals a simple and highly effective method for success with women. Club Game is a thorough treatment on pulling girls in clubs and bars with the least effort.
In addition to those commercially released paperbacks and ebooks, Aaron Sleazy also released the free and acclaimed ebook Debunking the Seduction Community, which discusses many of the problematic beliefs purported in the seduction industry and gives a concise overview of seduction. This was followed up by Johnny's Journey, which covers similar topics, but focusing on the experiences of one particular person.